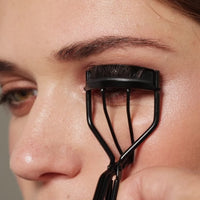 The LONI BAUR eyelash curler shapes your eyelashes effortlessly and gives them a great curl. The curved silicone pad perfectly shapes the lashes and can also be used for the lower lashes. The tool lies stylishly and robustly in the hand and offers a firm grip for easy handling.
Application:
Before applying the mascara, place as close to the lash line as possible and then gently squeeze.
Star make-up artist LONI BAUR
Loni has been developing looks for fashion weeks, stars like Charlène von Monaco, Gigi Hadid or Lenny Kravitz and big brands for 25 years. Now she has packed all her experience into her products and helps you to achieve a great and professional result. Vegan, Clean Beauty and Made in Germany. And with a tutorial via QR code for each product, in which she shares her best tips with you.
Beautiful inside and out
All products are developed by Loni itself. She pays attention to caring and valuable ingredients, which at the same time ensure a great color performance. 25 years of make-up experience are now here for you.