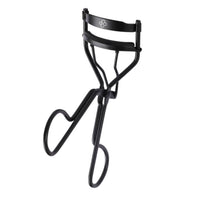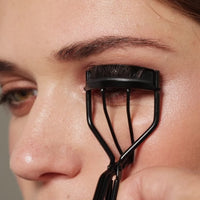 The LONI BAUR eyelash curler shapes your eyelashes effortlessly and gives them a great curl. The curved silicone pad perfectly shapes the lashes and can also be used for the lower lashes. The tool lies stylishly and robustly in the hand and offers a firm grip for easy handling.
Application:
Before applying the mascara, place as close to the lash line as possible and then gently squeeze.
Star-Make-up-Artist LONI BAUR
Loni schminkt Looks für die Fashion Weeks, Stars wie Charlène von Monaco, Gigi Hadid oder Lenny Kravitz und große Marken. Jetzt verhilft Loni DIR zu einem tollen und professionellen Ergebnis -
zu jedem Produkt bekommst du ein Tutorial via QR-Code, in dem sie dir ihre besten Tipps verrät.
Beautiful inside and out
Alle Produkte sind von Loni selbst entwickelt. Dabei achtet sie auf pflegende und wertvolle Inhaltsstoffe, die gleichzeitig eine tolle Farbperformace sichern. 25 Jahre Make-up-Erfahrung sind jetzt für dich da.